Wedding 101
How I Turned my Less Than Picture Perfect Wedding Into an Unforgettable Night
Customize your own wedding checklist with due dates, personal reminders, and timelines for all your wedding to do's.
From the moment you get engaged, it's almost impossible to not dream about your perfect wedding day. It's supposed to be the most magical and memorable night of your life and social media only reinforces that idea as countless pictures and videos of brides with the best hair and makeup, the most gorgeous dress, venue, flowers, and more circulate on your feed. As everyone shares the highlight reels from their wedding ceremony, you can't help but believe that your wedding is bound to be as picture perfect as the rest. However, for myself and many brides like me, things can quickly take a left turn leaving our fantasies crumbling down around us. After getting caught in a downpour, having my hair tangled in the wind, and having my Maid of Honor forget her bouquet at home, I can confidently say that even the messiest of weddings can end up better than your dreams, if you let it.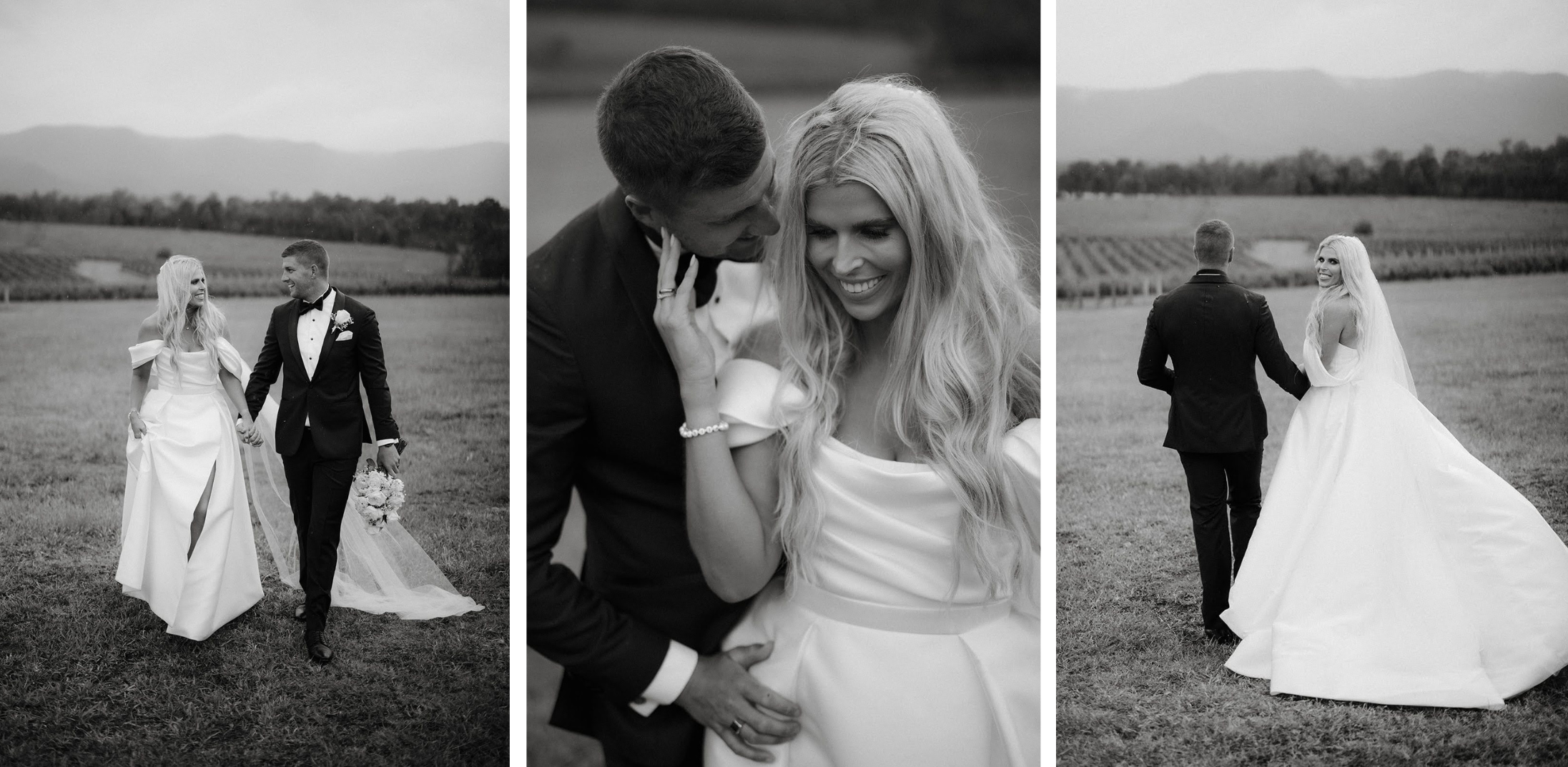 Solo wedding planning
My husband and I got engaged in March 2022 at the Dubbo Zoo in New South Wales, Australia while feeding hippos (my favorite animal). We both decided that we wanted a short engagement so we can begin our married lives as soon as possible and so that my twin brother, Mitch, who usually lives in the UK but was back home in Australia for surgery, would be able to attend. This meant that we needed to throw our dream wedding together within a year. As a bit of a control freak, I opted out of hiring a wedding planner to help me plan my big day since I already had a clear vision of what I wanted. Even though friends and family offered to help, I knew I was better off doing things my way without any external opinions to sway my decisions. I also wanted to be as involved in this once-in-a-lifetime process as I could be by meeting with vendors and establishing those connections myself – most of which I still maintain today.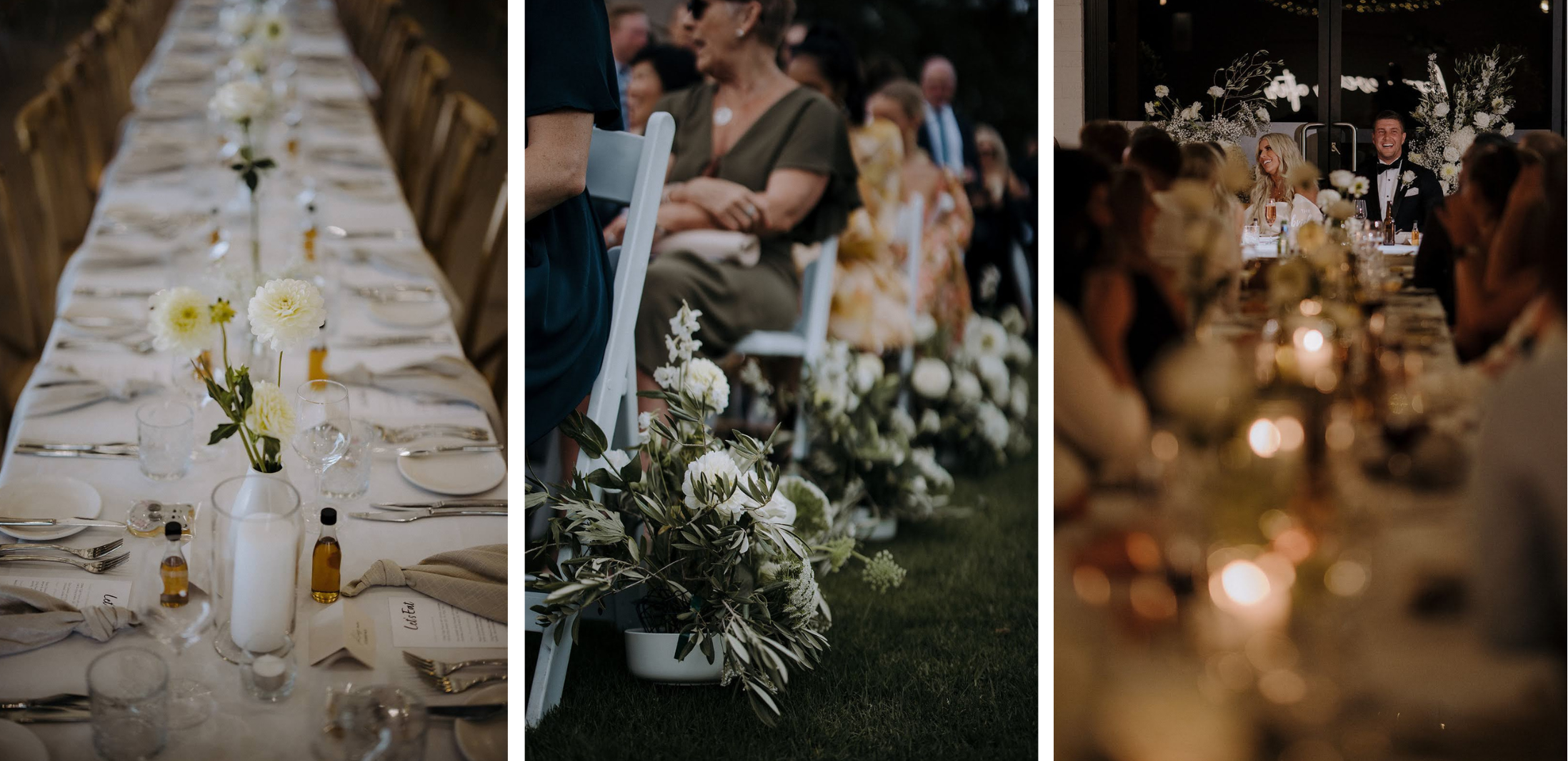 Despite knowing what I wanted, the process of planning a wedding was a challenge – one I did not enjoy at all. With or without a wedding planner, planning a wedding is a stressful experience and can easily consume most of your time and energy. However, if I could turn back time, I would still choose to plan my wedding on my own. Nothing compares to having full control and freedom to make your own decisions without any outside feeling the need to change your plans to please those around you. I was able to prevent myself from getting too overwhelmed by keeping things simple, focusing on the tasks I wanted to focus on and taking the process one day at a time – all at my own pace. Although I still found myself feeling stressed out in the days leading up to the wedding, planning my wedding on my own ended up being the least of my troubles.
If I could turn back time, I would still choose to plan my wedding on my own.
The not-so calm before the storm
Within 10 months, my fiancé and I were set to tie the knot on January 6, 2023 at the
Bimbadgen Palmers Lane venue
in the mountainous Hunter Valley. What began as a beautiful day suddenly took a turn for the worst around 4.30 pm when guests started arriving at the venue. Once I arrived, it started getting windier as the skies darkened from the overcast. Although we had planned on having an outdoor wedding and expected the rain, we were still unprepared for the storm that was now rolling in.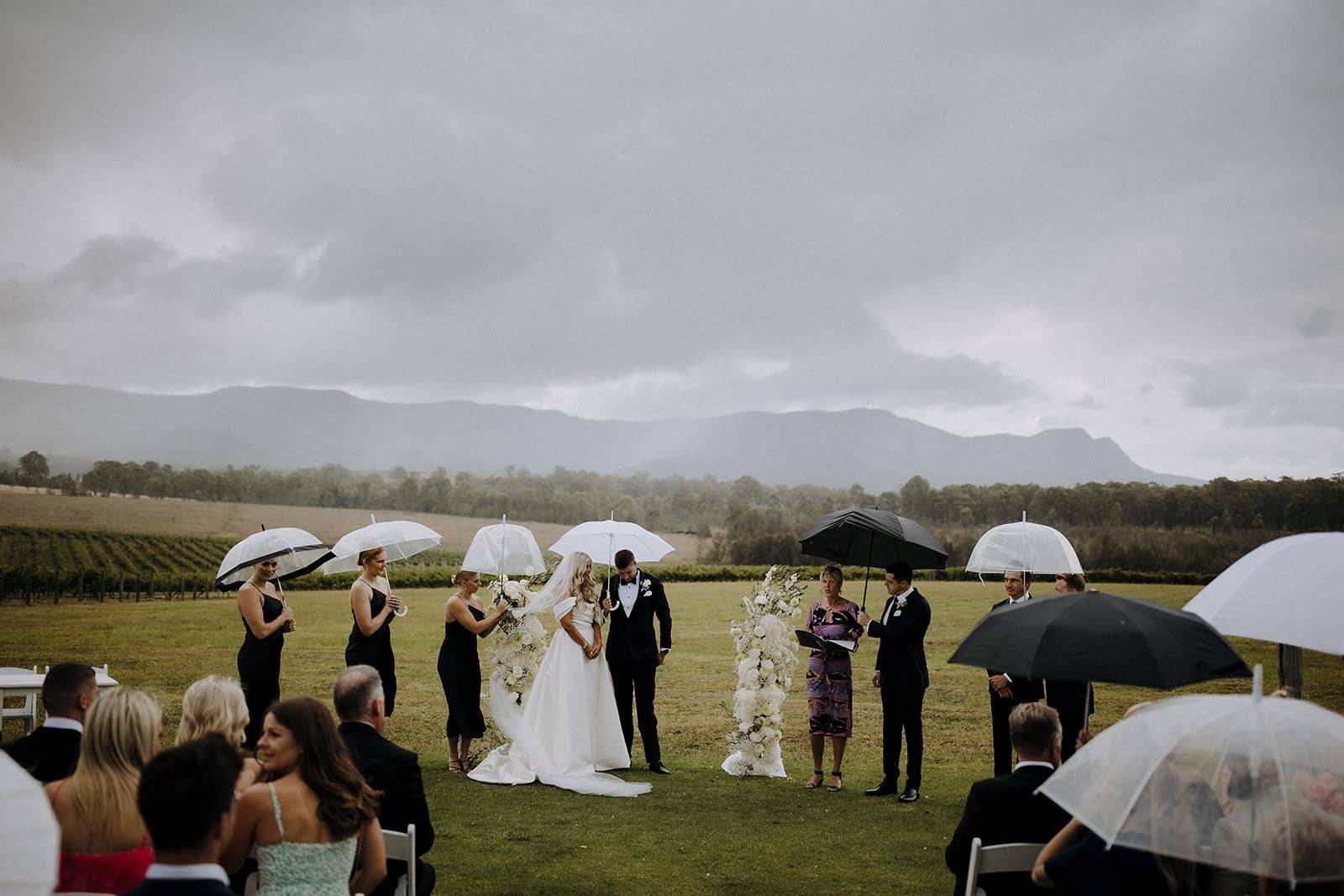 What began as a beautiful day suddenly took a turn for the worst around 4.30 pm when guests started arriving at the venue.
To kick off the chain of unforgettable events, we realized my Maid of Honor forgot her bouquet at home which meant one of our friends had to walk down the side of the aisle where our guests were seated to grab a bouquet from a bridesmaid, and run it back up to my MOH.I actually didn't think anyone noticed until the celebrant called it out which was a funny moment to kick off the ceremony with  When it was finally my moment to walk down the aisle with my dad and brother on each arm, the wind rapidly picked up wrapping my brother in my veil which we both couldn't stop laughing at as we walked down the aisle cracking jokes. Once I made it up to the flower arbor, my veil had completely wrapped around it leaving my Maid of Honor with no choice but to spend the ceremony holding two veils, my bouquet and her umbrella (Almost a blessing since she forgot her own lol).

Right as we got to our vows, the rain had come down and the wind was flipping the bridesmaids' umbrellas inside out - which my husband and I were hysterically laughing over as we tried to get through our vows.. At this point, you could see my hair extensions tangled in with the rest of my hair. Luckily the rain stopped right after our vows giving us a brief window of time to sign our certificate, exit down the aisle to our favorite rap music and do our champagne tower, rain free. The reprieve was short lived, however, as it began to pour again just in time for our group photos. By then, we were both in a "let's just go with it" mindset. Embracing the rain made it more fun and gave us the best photos.  We cut the photo session short as it was starting to pour even harder, but also because we preferred natural and candid photos instead of those awkwardly staged photos. Even so, we still managed to get some beautiful shots out in the rain.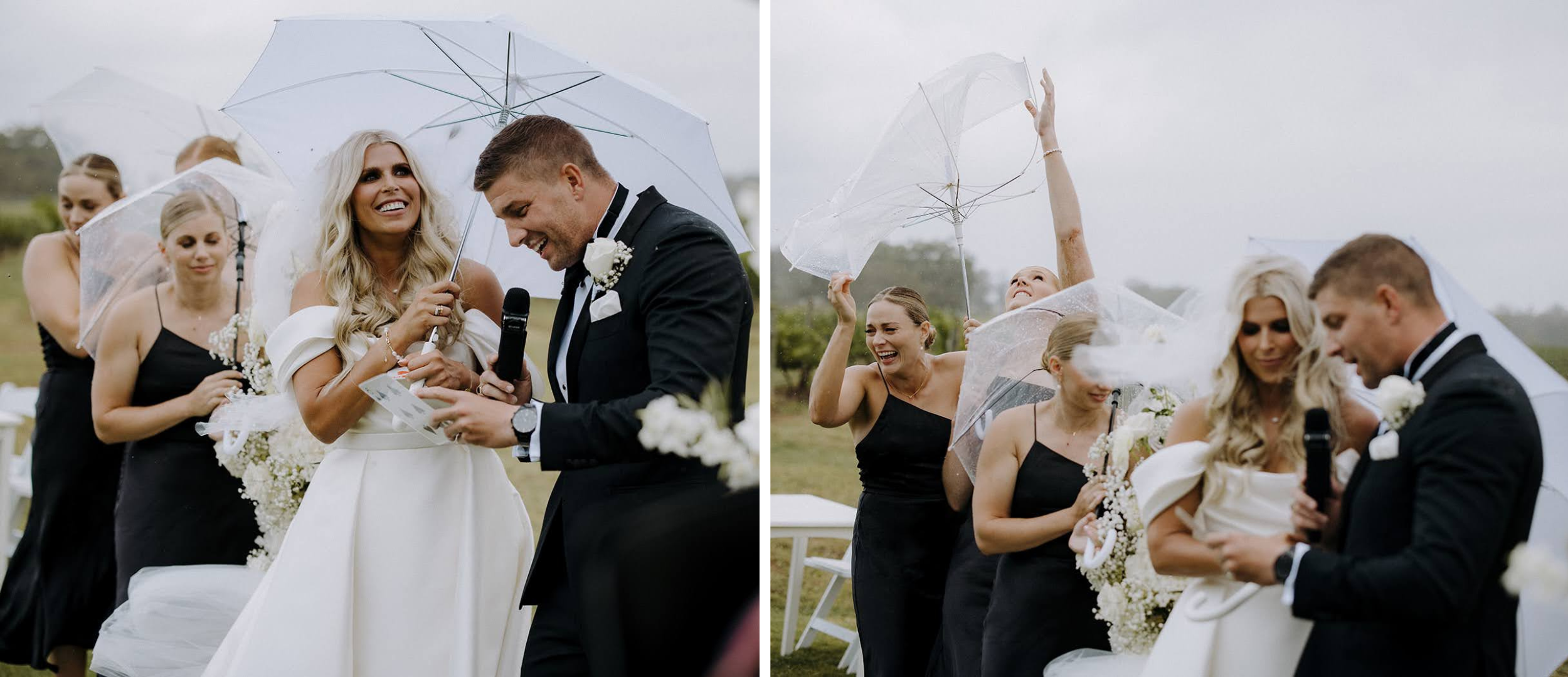 Make the remainder of the day better than the mishaps
Once it came time for the reception, we were ready to throw a big party and follow through with our own special moments. Originally, we were meant to have our reception outside but due to the weather, we made the decision to bring it inside - which was so much better. To mix things up and break away from tradition, I planned to have my father daughter dance first. We had a horrible dance routine and were not good at all, but we had so much fun dancing to the classic song Dancing Queen by Abba. Afterwards, I changed into a jumpsuit and had my first dance with my husband to my parents' wedding song. It only lasted about 40 seconds before we surprised our guests with us singing a karaoke rendition of Sweet Caroline by Neil Diamond which our groomsmen joined in on.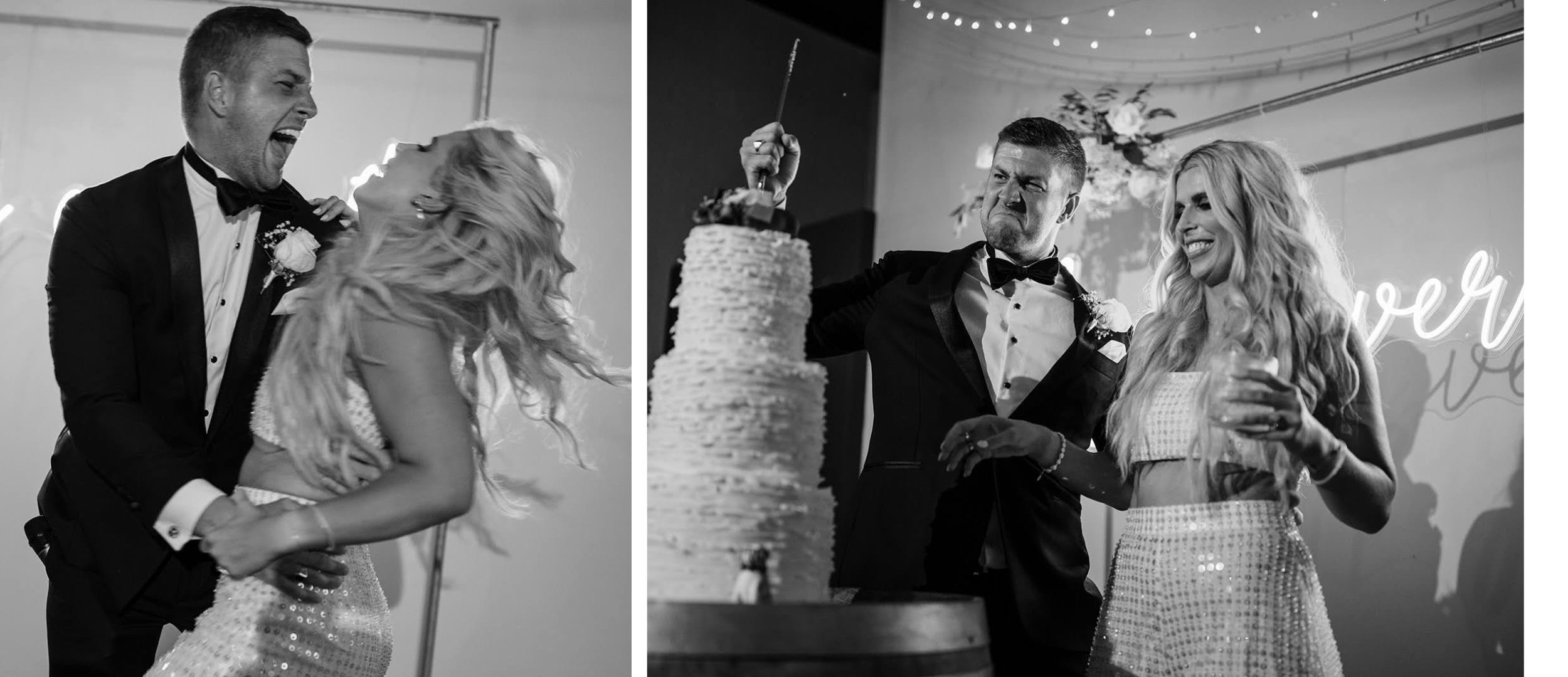 To really kick the party off we had
shots of fireball and hippo cookies
on every table as wedding favors. While my favorite moment from my wedding was walking down the aisle to my husband, my second favorite moment was being on our friends' shoulders and singing along to Love Story by Taylor Swift at the reception. When it came time to cut our wedding cake – that also happened to have a hippo cake topper – the DJ nailed the song choice by playing Shake That by Eminem. As we waited for our guests to come in, I did as any bride would do when her favorite song comes on and I started singing way too hard. Thanks to our guests who captured this moment on video, we went viral on TikTok with two of the videos getting over one million views. So yes, you can play Eminem at your wedding.
It's easy to get swept away by the perfect weddings we see online, but it's important to remember that someone's highlight reel is not reality.
While my wedding may have been a nightmare in the eyes of most brides, and was certainly nothing like I had imagined, in a weird way, I still loved it. In those moments, I was so happy to be marrying my person and celebrating our marriage in our own unique way, that nothing else mattered.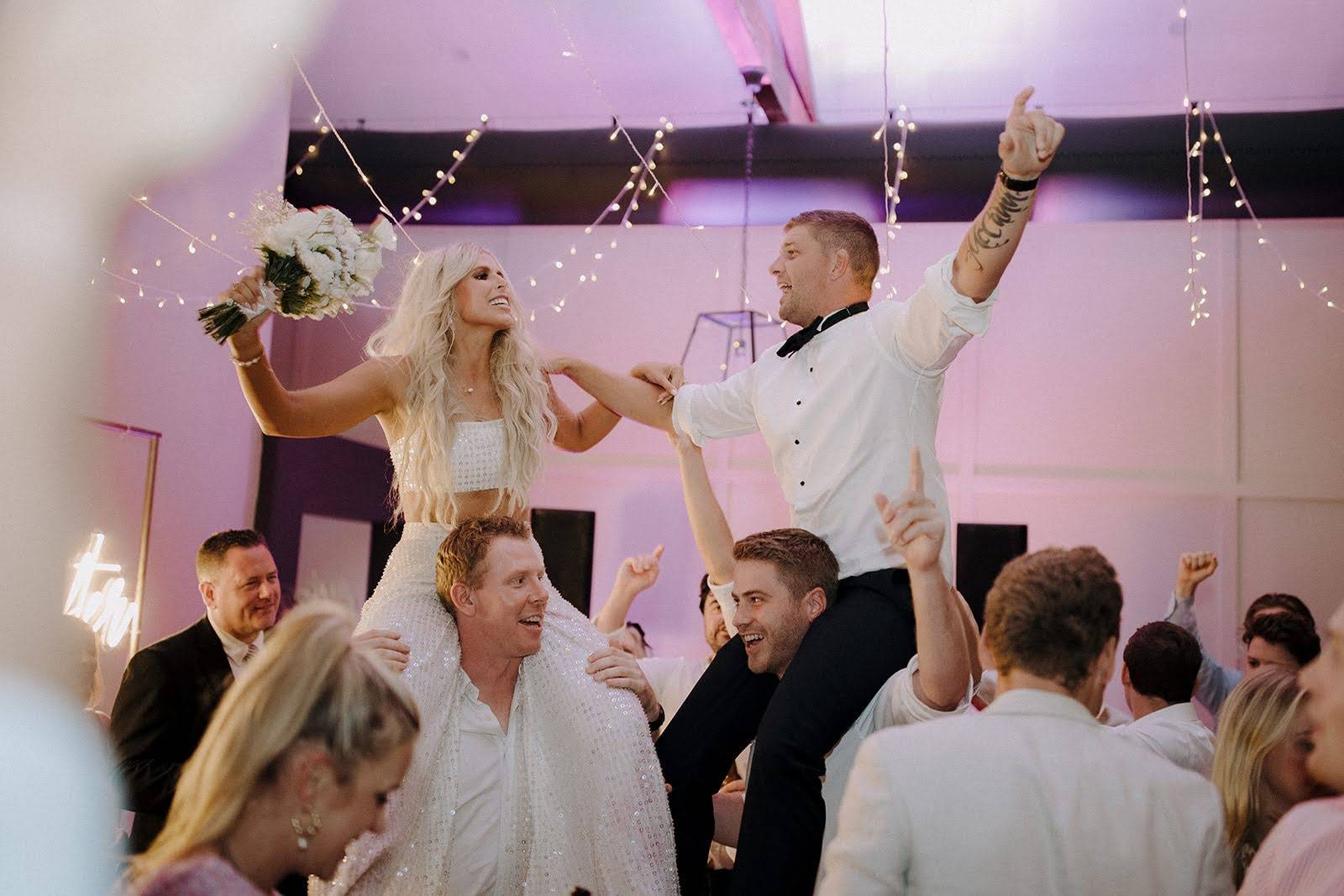 PSA to future brides
It's easy to get swept away by the perfect weddings we see online, but it's important to remember that someone's highlight reel is not reality. If you are fixated on the outcome then you're bound to be disappointed when things don't go to plan. I look back on my wedding with so much love and happiness despite all the hiccups we encountered! On the day itself, it did not phase me and now we both laugh at how memorable those moments were. I see so many of my friends planning their weddings, but are more focused on the image of  what everything will look like. I try to remind them that no one notices the small details like the extra candles you paid for or the blankets outside the way that you would – no one even noticed on our day! Just remember why you are getting married, focus on you and your partner and the rest will fall into place exactly as it is meant to be! It is only one day whereas your marriage is everyday!