Ideas
The Fruittiest Tuttiest Ways To Sweeten Up Your Wedding Day
On a hot summer day, we dream of biting into a juicy strawberry or ripe watermelon and letting the fresh juice dribble down our chin in an attempt to cool down from the heat. Why not translate this life hack to a wedding theme? 
Sweeten up your wedding with these fruit-themed ideas for decor and accessories!
Here are some fruity and tuttiest ways to sweeten up your special day:
Serve a fruit-infused signature cocktail or mocktail.
One way to create a delicious and refreshing fruit-infused signature cocktail or mocktail is to muddle fresh fruits such as strawberries, raspberries, or peaches with simple syrup, lime juice, and mint leaves in a shaker. Then, add a shot of vodka or a non-alcoholic alternative such as sparkling water, and shake vigorously. Strain the mixture into a glass filled with crushed ice and top it off with a splash of lemon-lime soda. Garnish with a sprig of mint or a colorful fruit slice. Serve with a straw and enjoy!
Fruit-filled wedding cake.
Fruit-filled wedding cake is a great way to add a unique touch to your special day. The variety of options for the fruit you can use is vast, from classic berries like strawberries and blueberries, to more exotic choices like mangoes, kiwis, and even pomegranates. Talk to your cake baker about what type of fresh fruit would work best on your cake. They can provide advice on the best way to incorporate the fruit, from simply using them as a topper to creating a show-stopping fresh fruit design. Adding fresh fruit to your cake will give it a unique and eye-catching look, making it a delicious centerpiece for your celebration.
Fruit centerpieces.
Fruit centerpieces are a great way to add a splash of color and a bit of natural beauty to any table. Not only are they vibrant and eye-catching, but they are also a healthy alternative to other centerpieces. You can easily create a stunning centerpiece with a variety of fruits like oranges, lemons, limes, and grapes. You can display them in beautiful, clear glass bowls or vases, or even arrange them in a basket. For an added touch, you can mix in some smaller fruits like kiwi, blueberries, and strawberries. Even a few sprigs of herbs like rosemary or mint can be used to create a unique and fragrant display. The possibilities are endless! Adding a fruit centerpiece to your table is a great way to add a little bit of freshness to any gathering.
Fruit favors.
Fruit favors are a great way to give your guests a sweet treat to take home from your event. You can choose from a variety of fruit-themed favors such as fruit-infused candles, personalized jam jars, fruit-shaped candy, or even mini fruit pies! If you want to add a special touch, you can personalize your favors with custom labels or tags that feature your guests' names. You can also tie in the theme of your event by choosing favors that feature the same colors as your decorations. Fruit favors are a great way to show your guests how much you appreciate them and make sure they remember your event!
Fruit dessert table.
Create a stunning display of delicious fruit-filled desserts that will tantalize your taste buds. Make sure to include traditional fruit tarts, made with a combination of fresh or frozen fruits and a buttery pastry crust. Serve up delectable fruit skewers, with a vibrant array of fruits like strawberries, pineapple, oranges, and grapes. And don't forget to include some light and refreshing fruit sorbets, in flavors like raspberry, peach, and mango. Top off the table with a few small jars of honey, for drizzling over the desserts. Have fun mixing and matching the colors and flavors to create an eye-catching and delicious fruit dessert table!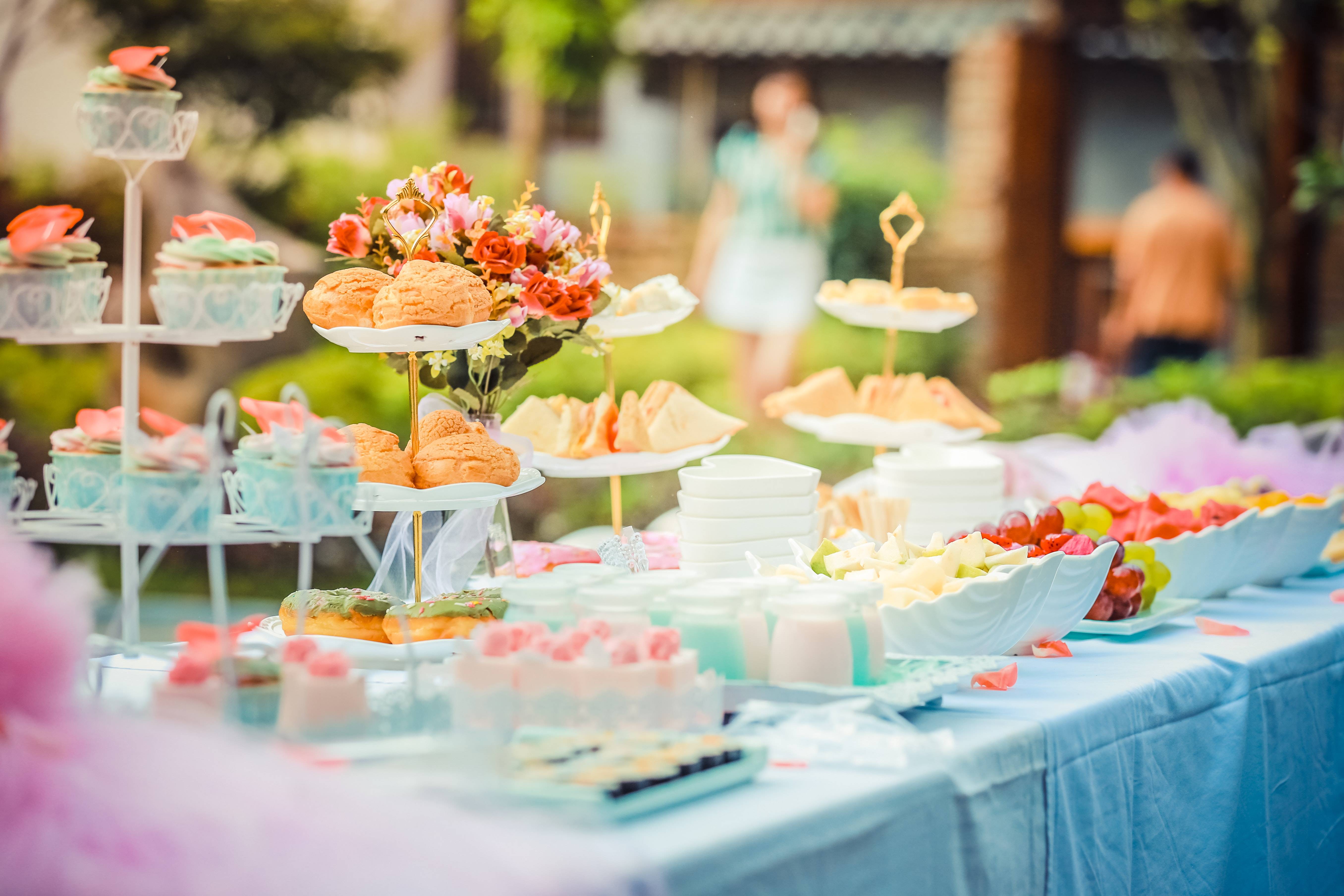 Fruit decorations.
Fruits like apples, pears, and lemons can be used to decorate the wedding reception tables in a variety of creative ways. Fruits can be used to create a beautiful centerpiece for the tables. For example, apples and pears can be arranged in a bowl on the table and surrounded by lemons. Additionally, lemons can be sliced and arranged in a pattern to create an eye-catching design. Fruits can also be used to decorate around the venue. For example, apples and pears can be hung from the ceiling or walls with string. Lemons can be placed in vases around the room to add a pop of color. Fruits can even be used to create a unique bouquet for the bride. By getting creative with fruits, couples can create elegant, unique decorations for their wedding reception.
Fruit station.
Creating a fruit station for your guests will be a sure-fire hit at your next event. You can arrange a variety of fruits such as apples, oranges, grapes, pears, kiwis, bananas, and more. You can also include some healthy toppings such as granola, nuts, and yogurt.
To make the station interactive, you can also provide a selection of smoothie and parfait recipes that guests can follow to make their own creations. This way, they can choose the fruits and toppings that they like best and make a unique snack. You can also provide special fruit-based drinks such as fresh-squeezed juices or smoothies.
Fruit-inspired colors.
Fruit-inspired colors are a great way to bring a cheerful, vibrant feel to your wedding. You can use shades of orange, pink and yellow to bring a playful and whimsical style to your ceremony and reception. Incorporate these colors into your wedding decorations, such as the flowers, centerpieces and table linens. For a modern twist, you can even use metallic accents in shades of gold and silver to add a touch of sparkle and shine. You can also use fruit-inspired colors in your wedding attire, such as orange and yellow bridesmaids' dresses or a yellow and pink wedding cake. Whatever you decide, incorporating these cheerful colors will add a unique and special touch to your big day.
Fruit-inspired wedding invitations.
If you're planning a fruit-themed wedding, why not incorporate that theme into your wedding invitations? Use colorful fruit illustrations or patterns on them to give your guests a hint of what your wedding will be like. You could use a bright watermelon pattern or design your invitations to look like a bunch of grapes. You could even pair the illustrations with a fruit-scented envelope liner to enhance the invitation experience. You could also use different font styles that mimic the look of a juicy orange or a tart lemon. Get creative and make sure to have fun with it!
Fruit-inspired wedding favors.
You can choose to give out mini fruit baskets, with a variety of fruits inside, as a favor. Depending on the size of the basket, you could include apples, oranges, pears, grapes, and other seasonal fruits. You can also personalize the baskets with ribbons, tags, or even a special message for the guests.
For something a little more unique, consider personalized fruit-shaped keychains or magnets. These can be made from a variety of materials, such as wood, metal, or plastic, and can be customized with the couple's names or wedding date. These favors are sure to be a hit with your guests, and will make a great keepsake to remember the special day.
Plan your wedding like a pro.