5 Creative Ways to Include Your Dog in Your Wedding Festivities
For many of us, our dogs are part of our families. They're our "fur babies," if you will. So, naturally a number of couples want to include their four-legged BFFs in their weddings. However, the logistics of having your pooch play ring bearer or stand with your bridesmaids or even just walk down the aisle can be a hassle—you have to get your pup to the ceremony somehow, be sure he or she has a handler, and pack all the essentials he or she needs to stay happy, calm, and satiated. That can be a lot to think about on your wedding day!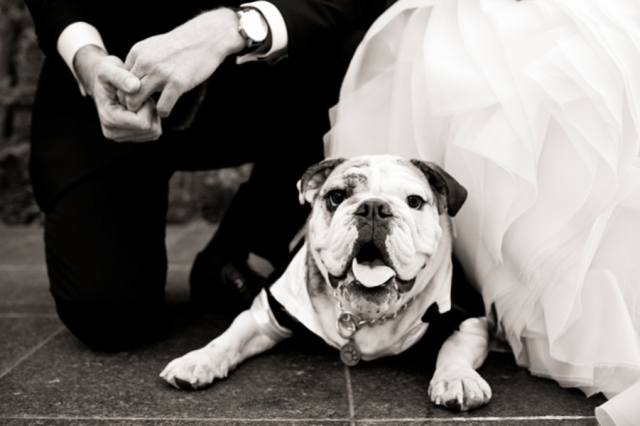 So, instead of having Fido participate in the wedding itself, consider including him or her another way that will be less stressful on you—and on your beloved dog, too.
1. Your engagement shoot.
With a number of couples staging picnics and other prop-filled scenes for their engagement shoots these days, having your dog as part of the tableau is a fun, more understated idea that's super meaningful. Plus, now you have stunning family photos, to boot!
2. Your save the date.
If you included your dog in your engagement shoot, you can for sure use a photo of you three for your save the date. However, if you'd like to go another route, consider taking a photo of your handprints and your pooch's paw prints all together on the beach or snapping a photo of your furry friend with a cute "save the date" sign around his or her neck and using that image as your save the date.
3. Your wedding stationery.
Consider having an illustrator (or an artsy friend) draw you two and your dog, and use this illustration of your family trio as your wedding "logo." You can use it on your invites, your menus, your favor packaging—anywhere you'd usually put a monogram. Post-wedding, ask for a larger rendition (or print one) to frame for your home.
4. Your registry.
Many couples offer a donation option in addition to (or even instead of) a traditional wedding registry these days. If you adopted your pup, you might include your adoption story and a donation link for the shelter from which you got him/her on your wedding website so guests can learn about this special member of your family and support the organization that brought him into your lives.
5. Your first look
If you're getting married close to home and want a photo of your dog with you two in your wedding finest, coordinate having your pooch included in your first look. While there will be some logistics involved (unless you can have your first look at home), having your dog there for this part of the wedding day is far easier than during the event itself. Just be sure to budget some extra time for transporting the pup to the location, if needed.
Will you be including your pup in the festivities? Browse more adorable dog ideas on Lover.ly!
[[bundle_id: 85093]]
Stories you might like