Celebrity
Do You Have Plans This Valentine's Day? Meet Me in Times Square
The Crossroads of the World are taking on a new form this February as Times Square transforms into a hub of all things love and romance.
This Valentine's Day, couples from far and wide will hit the big apple to celebrate love with surprise proposals, vow renewals, and weddings officiated by a celebrity guest. Regardless of religion, race, culture, or orientation, couples from all walks of life will be given the spotlight to share their love with the world and trust us, you won't want to miss it. This year, the longstanding and beloved tradition, Love in Times Square, is being presented by the Times Square Alliance and Minted Weddings, the premium design goods marketplace.
"Minted and the Times Square Alliance share a mission of championing the work of independent artists and we are proud to partner together on the 2023 Love in Times Square program" says Marissa Cedarleaf, GM of Weddings for Minted.
At Minted, we have the privilege of celebrating love daily and are honored to play a part in celebrations with fresh wedding stationery designs that stand the test of time. We're excited to bring that celebration of love to new audiences with Love's h|Edge.
What is Love's h|Edge?
In preparation for the big event, the winner of the 15th annual Love & Design Competition, Almost Studio, debuted their winning installation at the center of Times Square. The playful maze-like heart sculpture, Love's h|Edge consists of four heart shaped hedge rows containing illuminated benches, hidden pathways and vertical rose-lined trellises called "Pitter-Patios." The sculpture will continuously grow and evolve throughout the month, much like the ever-changing city, as welcomed visitors "Fill Up the Heart" by adding fresh roses to its trellises. As the roses begin to accumulate on Love's h|Edge, they will create a breathtaking "blossoming" illusion which will be a must see by the end of February. In addition to the scent of roses and the texture of the hedges, the multi-sensory experience of the installation will touch upon the senses of sight and hearing as well. The programmed lighting design will create a soft glow of illumination along with the soft soundscape emitted from the hidden audio speakers outfitting the interior of the artificial hedge rows.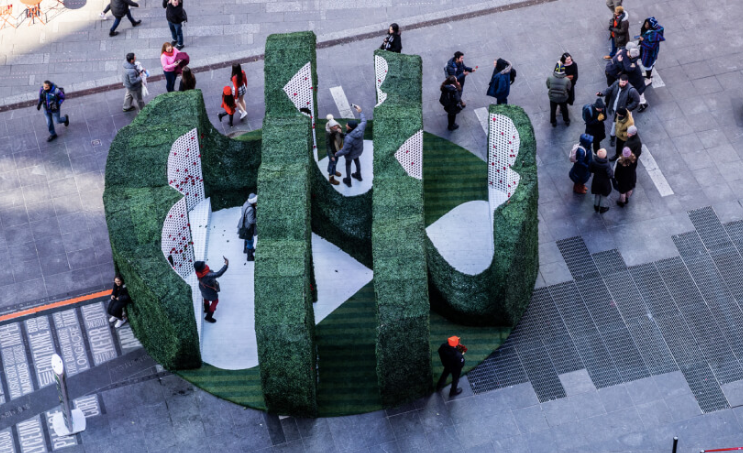 The appearance of this dreamy garden-like maze in the middle of what is inarguably one of the busiest spots in NYC is meant to be a brief pause in your day, a refreshing break from reality, a jolt in perspective seeing the illusion of nature in the concrete jungle. It offers the public a chance to indulge in a moment of childlike wonder as you play and interact with the installation, snag selfies, and make memories with others.
Through its design, Love's h|Edge celebrates the limitless human capacity to love. The work, composed of a family of four heart-shaped hedge rows, invites visitors to journey through their own path of love and discovery. Drawing upon Times Square's history of performance and the theatricality of landscape design, the maze-like installation becomes a stage for exploration, and a frame for performance, play, and chance encounters 

- said Times Square Arts Director Jean Cooney.
Not only will the sculpture serve the public for the month of February, but it will also play an especially important role on Love Day as the backdrop to countless romantic moments that will unfold.
Witness Love in Times Square
If you're planning to keep up with Cupid this Valentine's Day, you'll need to beat the morning commute getting to Times Square in time for the festivities to begin.
At 11:00 a.m. ET, visitors and resident New Yorkers will be able to witness the start of a new and exciting chapter in the lives of some very lucky couples. Unsuspecting soon-to-be fiancés will be proposed to under the iconic American Eagle sign in Times Square with that special question popping up overhead on one of the iconic billboard screens.
Couples who have pre-registered to get hitched on V-day will finally get to say "I Do" on Duffy Square amidst friends, family, and onlookers, as they witness the most beautiful displays of love. The couples who have chosen to share their momentous occasion with the world will also have the honors of being wed in front of the Love's h|Edge installation by a surprise celeb officiant with a personal tie to bridal fashion.Celeb sightings at Love's h|Edge has been a favorite amongst the public since its debut. Television personality Tyler Cameron from season 15 of the Bachelorette took to Times Square to hand out fresh cut roses for visitors to add to the sculpture while also taking photos with fans. Actress and fashionista Tik Tok personality, Deanna Giulietti, also took a turn at handing out flowers and posing for photo ops. 
From 6:00-6:30 p.m. ET, vow renewals will take place on the famous TKTS red steps where couples who have lived and loved will once again strengthen their bonds in marriage by exchanging words that could warm any heart on a cold February evening. Couples who will be renewing their vows will also receive a sweet treat from 
Raaka
, a local business specializing in creating unroasted dark chocolate from scratch.
With that, the Valentine's Day celebrations of love in Times Square will come to a close, leaving the rest of the night free for romantic dinners in NYC restaurants or for any other romantic rendez-vous you can think of. Even though the festivities will have ended, keep in mind that Love's h|Edge will remain open to the public for the remainder of the month. If you're in luck, you might run into a celeb on your following list. 
Whether you're hoping to witness love in its phases or engage in the playful heart-themed art installation with those near and dear to you, taking a trip out to Times Square this Valentine's Day will be the sweetest reminder to celebrate love. If you decide to partake in this year's V-day festivities, don't forget to share your Valentine's Day photos and love stories using the hashtag #LoveTimesSquare on Twitter and Instagram, tagging @TimesSquareNYC and @MintedWeddings