Want to Rock Pink Hair on Your Wedding Day? Here's How To Pull It Off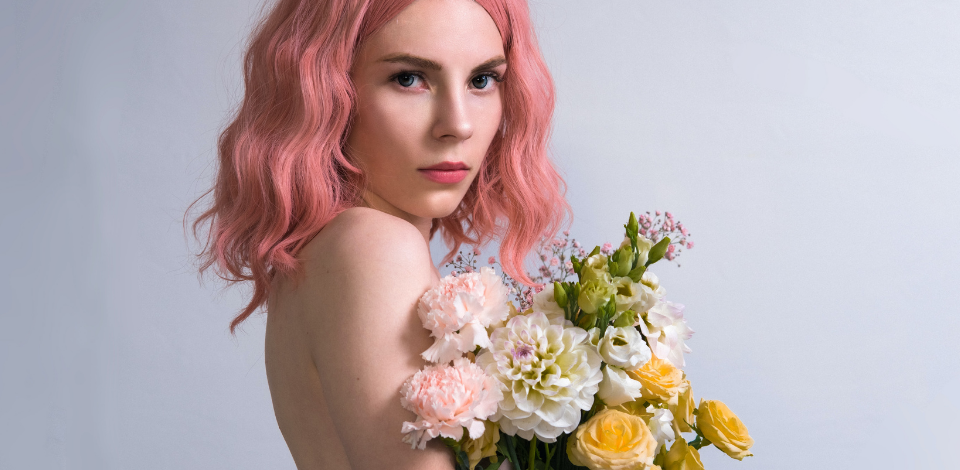 One of the hottest hair trends that has taken the internet by storm is pastel hued hair. We have become completely obsessed with this cotton candy colored trend and love it when a bride rocks pink hair on her wedding day. We interviewed NYC based colorist and owner of
Rogue House Salon
  Jamielynn De Leon, to get her expert tips on how to pull of pastel pink hair.
How long before the wedding day should you begin the process?
It's always best to process your hair in stages to ensure the integrity of your hair during the bleaching phase. Depending on the color and texture of your hair (dark brown/coarse), it can take 2-3 lightening treatments to achieve the pale blonde base. Once the hair is bleached to a light enough shade of blonde, your hair is toned, and then the color is added.  If you are dying your hair for a special occasion (like your wedding) you should begin the process 3-5 weeks before the wedding day just in case something doesn't go according to plan
What shades of pink should I dye my hair?
Nowadays there are so many color options available from pastel, to metallic, and even neon shades the options have become plentiful.. To determine what is the best shade for you, consult your stylist for their professional opinion. In general natural blondes tend to look great with pastel pinks (softer hues) and darker shades of brown/black look great with a vibrant pink.
How much does it cost to dye your hair pink?
Dying your hair pink is definitely an investment of time and money. It is a multi-step process of bleaching and toning that can take up to 12 hours. Working with a great stylist is key and depending on the condition of your hair it can range in price from $300-$700+.What is the upkeep?The key to long-lasting color is maintenance. For maximum results, only wash your hair once a week with a paraban and sulfate-free shampoo.  To keep your hair healthy, always use a conditioning mask and let it sit for 3-5 minutes.  When washing and conditioning your hair always use cold water. Hot water dries out your skin and can decrease the life of your hair color.
How long does the color last?
The color typically lasts about as long as it takes for your roots to grow out. Factors like how often you wash your hair, the quality of the products you use, and heat application can all impact the brightness of the color. You will need to visit the salon every 6-8 weeks to tone your hair and potentially reapply your shade of pink. Thinking about pulling off pink hair for your wedding day? Check out these 6 ultra bold and beautiful brides that rocked pink hair.
Stories you might like